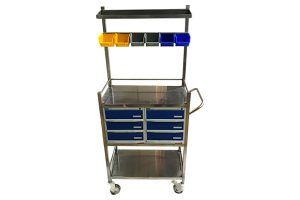 Rachilu is a well-known manufacturer and provider of Crash Cart Trolley for Hospitals. The manufactured Crash Cart Trolley is sometimes referred to as a code cart. These available trolleys are constructed from a collection of trays, shelves and drawers on wheels that are used for transportation in hospitals. Our produced Crash Cart Trolley are available with roomy drawers and shelves, and they are created and made using the best grade mild steel with the help of modern processes by a team of skilled specialists.
A crash cart trolley, also known as a crash cart or a medical cart, is a specialized cart that contains numerous emergency medical supplies and tools. It is intended to be conveniently accessible and widely available in healthcare settings, particularly in hospitals, clinics, and medical facilities, where it functions as a mobile unit for handling medical crises including cardiac arrests. Healthcare personnel need crash carts to administer life-saving interventions swiftly in emergency situations.
The emergency response infrastructure in hospital environments is not complete without crash cart trolleys. In an emergency, they enable quick and efficient intervention that can significantly impact patient outcomes by giving medical team's access to vital supplies and equipment right away.
Standard Components of Crash Cart Trolley:
Overall size, approx.
Two lockable storage drawers and six detachable bins
With two in lock and two out of lock, the four 100 mm synthetic body castor wheels
Along with a cardiac massage board and a powder-coated oxygen cylinder stand.
Stainless steel IV pole
The modern, caster-wheeled Crash Cart Trolley that our businesses offer is incredibly simple and comfortable to move. When compared to cart trolleys from other businesses, ours are more fully equipped with drawers for the storage of pharmaceutical goods. It is quite easy to move from one place to another because of this. Due to its excellent qualities, including high quality and durability, this Crash Cart Trolley is valued by our client.
In addition, we build this crash cart trolley mostly out of stainless steel due to its durability, resistance to corrosion, and resistance to scratches, among other properties. Purchase this item from us for your clinics at a very low cost. Additionally, this Crash Cart Trolley is cost-effective and available in a variety of sizes.