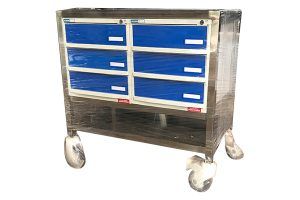 As a best Hospital SS Furniture Manufacturer makes great efforts to come up with new ideas and best solutions so that both patients and caregivers can have a good quality and quantity of life. We believe that the heart of healthcare industry lies in healthful relationships.
We furnish care spaces with elegant and comfortable furniture that connects doctors, patients, and staff members and leverage their relationships. Having many years of experience, we having attained par excellence in designing the right-fit solution for care centers. With our exclusive range of hospital furniture, we are the top Hospital SS Furniture Manufacturers.
We provide innovative products and medical fittings that are more lightweight while delivering the same power thus reducing patient discomfort by providing more reliable service. Hospital Stainless Steel furniture along with advance medical equipments has an important role to play in health care. Our products are not only helping surgeons to perform the critical surgery with the uttermost safety of patients, but also make patients feel comfortable during their stay in hospital or the surgery as well. The professionals, in the field using our products are highly satisfied with our performances.
The Manufacturing Unit involves advanced computerized machineries that control Pre Treatment & Powder Coating for the surface. We can manufacture our beds, trolleys and other products as per your requirements also. We had established our brand on top of the chain of hospital SS furniture manufacturer. Rachilu Industries provides you with the best solution for your hospital needs, our brand in one of the most trusted in hospital Stainless Steel furniture manufacturing.
At the first we make a structure for the required items that we have to supply the customer. Chairs in hospitals are the most important piece of hospital SS furniture. Visitors, staff, and patients make use of the seats most, so it is essential that they should be safe, stylish, and comfortable.