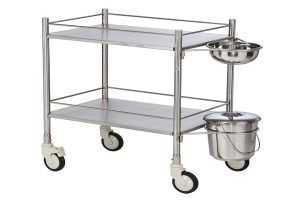 We started our journey in the industry as name Marvel steel industry in 2013but now we are known as RACHILU Industries Pvt Ltd. Since the beginning, we provided services and products from our manufacturing unit for Hospital furniture but as of now, we are also manufacturing Hospital and Office furniture, Manufacturer, and different types of Office Furniture in Ahmedabad, Gujarat. We have a world-class facility in the manufacturing Unit. We mainly focus on quality and a unique design with an on-time delivery facility.
Rachilu Industries Pvt. Ltd. is engaged in manufacturing and sales. We Manufacturing products in different categories like fume exhaust units, office steel furniture, hospital surgical items, caging systems, laboratory fume hoods and work stations, biosafety cabinets, and different trolleys like Crash cart Trolley, Instrument trolleys, SS Dressing Trolley, etc.
Every hospital requires the SS Dressing Trolley mainly required in the hospital, we are providing affordable products to our customers and in addition, along with the shelves our dressing trolleys have one bucket and bowl and by using SS materials which helps to protect the trolley from corrosion, damages, and cracks. Meanwhile, we also do customization in every product that we produced; having an option of requirement feasible facility from industry and clients.
General Specifications :
 Tubular frame with the structure of Stainless steel
              2.  100mm synthetic body castor with and without brake
              3.  It has two shelves with all four sides having the protective railing
              4.  Supplied with one bowl and one bucket